Blansett Family Photo Album
Blansett's Tavern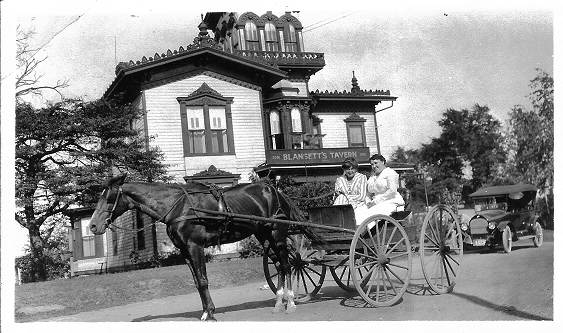 Front and Back of a photo of Blansett's Tavern
Click on the images for larger views
Submitted by Fredrick Koller
According to the 1917 Onondaga Co., NY Classified Business Directory, this is the Blansett Tavern located at
2301 James St., Syracuse, New York
Eual D. Blansett, Jr. wrote:
"The photo was taken in Syracuse, New York. The tavern was owned by
Charles B. Blansett and his wife, Lulu. In 1920, he was 61 years old
and she was 42 years old. They were both natives of New York. as were
their parents. His occupation was listed as proprietor of a tavern.
She had no occupation at that time. The address of their home was 2301
James Street, Syracuse, New York. The house, which may still be there,
was located, according to MapQuest, near the intersection of James Street and Grant Boulevard."
Janet Wright provided the 1920 Census information:
"The tavern proprietor is listed in the 1920 census
(New York, Onondaga Co., Syracuse, ED 132 p 6B, family 141, 2301 James St):
Blansett, Charles B, 61, b New York, both parents New York, proprietor of tavern
Lulu, wife, 42, b New York, both parents New York
Victoria Ranney, servant, 36, b New York, father Scotland, mother Wisconsin, servant in tavern
Notice that in the picture, the number "2301" is on the tavern. That matches Charles Blansett's address!"
---
©2006 by Norman Blansett
Site Design by StatlerWeb
Webspace provided by Tripod
Last Update: March 05, 2008