Blansett Family Obituaries
Hosman, Hattie Blanche (nee Blansett)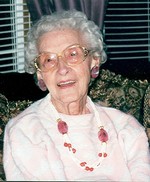 PARAGOULD — Hattie Blanche Blansett Hosman, 96, of Paragould, formerly of Cardwell, Mo., died Tuesday, July 7, 2009, at Greene Acres Nursing Home in Paragould.

She was born in the Water Valley community near Ravenden Springs on Sept. 29, 1912, to William Joseph and Sarah Jane Smith Blansett. She graduated from high school at Pocahontas.

She was married to J.B. Hosman on Aug. 11, 1939, and they lived most of their adult lives near Cardwell. They had celebrated more than 61 years of marriage when he preceded her in death in 2001.

She was a homemaker and worked at Belk's in Paragould from 1966 to 1976. She was a longtime member of Cardwell First Baptist Church and for the past nine years, a member of East Side Baptist Church in Paragould. She was a member of the Order of the Eastern Star for more than 70 years and was a past worthy matron of the Cardwell chapter.

She was preceded in death by her husband, J.B. Hosman; and her parents, three brothers and six sisters.

Survivors include one son, Vic Hosman of Paragould; three nephews, Thurman Wells of Ravenden Springs, Leon Blansett of Jefferson City, Mo., and Kenneth Rogers of League City, Texas; and one niece, Mildred Statler of Columbia, Mo.

Visitation will begin at 10 a.m. with funeral services at 11 a.m. Friday in Mitchell Funeral Home Chapel at Paragould with Dwight Harrison and Kelly Wright officiating. Burial will be in Cardwell Cemetery.

Pallbearers will be Charles Nelson, Shad Rowe, Bruce Davis, Larry Davis, Allen Williams and Norman Jameson.

Anyone wishing to leave a lasting memorial may give to the Cardwell Cemetery Fund, P.O. Box 488, Cardwell 63829; East Side Baptist Church; or the charity of their choice.
Printed in the Thursday, July 9, 2009 edition of the Jonesboro Sun, Jonesboro, AR.
---
©2009 by Norman Blansett
Site Design by StatlerWeb
Last Updated: July 10, 2009