Blansett Family Obituaries
Cline, Arlene (nee Bailey)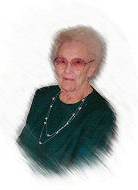 Arlene Cline, age 96, of Jefferson City, Mo. [formerly of Paragould, Ar.], departed this life Friday, Jan. 16, 2009, at the Heisinger Bluffs Care Center in Jefferson City.

She was born July 29, 1912, in Ravenden Springs, Ark., a daughter to James T. and Bertha (Wells) Bailey.

She was united in marriage to Millard Blansett in 1932, and together they shared 35 years until his death in 1967.

Arlene spent a good part of her life farming, and was an excellent seamstress as well. In her spare time she enjoyed quilting. She was a member of the Rose Bud [Rosewood] First Baptist Church in Paragould.

She is survived by one son, Jewel Blansett of Jefferson City, Mo.; one daughter, Mildred Statler and husband, Paul, of Columbia, Mo.; two brothers, Donald Bailey of Jonesboro and Noble Bailey of Imboden, Ark.; five grandchildren, Keith Blansett, Kevin Blansett, Kent Blansett, David Statler and Mary Foley; 14 great-grandchildren; several nieces and nephews and great nieces and nephews, along with several other relatives and friends.

She was preceded in death by her parents; three brothers, Eugene Bailey, Jewel Bailey and Burley Bailey; and one sister, Ruby Bradford [and one great-grandchild, Bethany Foley].

Funeral services are scheduled for 11:30 a.m. Monday, Jan. 19, 2009, at the Mitchell Funeral Home Chapel. Visitation will be from 10:30 a.m. until service time at Mitchell Funeral Home.


Obituary printed in the Saturday, January 17, 2009 edition of the Paragould Daily Press newspaper, Paragould, Arkansas.
Items in brackets are corrections and/or additions.
---
©2009 by Norman Blansett
Site Design by StatlerWeb
Last Updated: January 21, 2009