Blansett Family Obituaries
Blansett, Shirley Ann (nee Wright)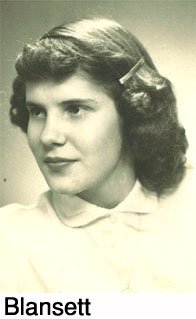 Shirley Ann Blansett (Wright), age 75, of Fulton, passed away Saturday, July 30, 2011, at St. Mary's Health Center in Jefferson City.
She was born October 19, 1935, in Callaway County, the daughter of the late Jewett M. Wright and Susan Ethel (Potts) Wright.
On February 27, 1955, she was united in marriage to Howard Lee Blansett. He preceded her in death on December 9, 2002.
Shirley graduated from Fulton High School. She had worked for the Spot CafÈ, Shoe Factory and William Woods College. She and her husband Howard owned and operated several businesses in Fulton and the Lake of the Ozarks. She was a member of the Ebenezer Baptist Church. Shirley loved spending time with her grandchildren. She enjoyed fishing, bird watching, and flower gardening.
She will be sadly missed and lovingly remembered by one daughter, Debbie Hiatte and her husband Mark of New Bloomfield; one son, Howard Michael Blansett and his wife Nina of Leasburg; four grandchildren, Katy Hiatte Morgan, Jonathan Hiatte, Paige Blansett and Jordan Blansett, two step- grandchildren, Anthony Myers and Ryan McMillian; one sister, Betty Harris and her husband Wallace of Fulton; and numerous nieces and nephews. Shirley was preceded in death by her parents, four brothers and one sister.
Funeral services will be at 1:00 p.m. on Tuesday, August 2, 2011, at Maupin Funeral Home in Fulton with Dr. Lewis Curtis officiating. Visitation will be from 11:00 a.m. to 1:00 p.m. on Tuesday, August 2, 2011, at the Maupin Funeral Home in Fulton.
Interment will be held at the Ebenezer Cemetery.
Memorial contributions may be made to the Ebenezer Cemetery Association, c/o Maupin Funeral Home, 301 Douglas Boulevard, Fulton, MO 65251.
Printed in the Sunday, July 31, 2011 edition of the News Tribune, Jefferson City, MO.

---
©2006 by Norman Blansett
Site Design by StatlerWeb
Last Updated: April 10, 2009