Blansett Family Obituaries
Blanscet, Nancy Lillian (nee Williams)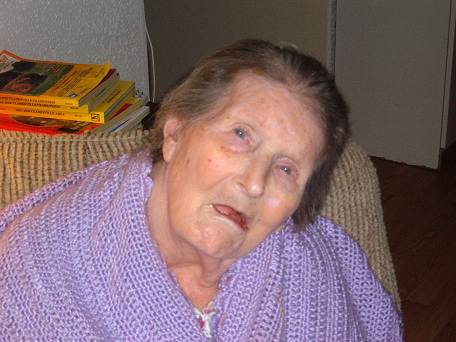 Lillian Blanscet - January 18, 2008
Nancy Lillian Blanscet, 100, of Ozark died Monday, Feb. 18, 2008, at Mercy Hospital/Turner Memorial in Ozark.

She was a homemaker, a Methodist and a member of the Liberty Church at Altus. Born Aug. 9, 1907, in the Center Cross community at Altus, she was the daughter of the late Jasper and Ollie Pruitt Williams. She was predeceased by her husband, Eddie Blanscet.

Survivors include a daughter, Dortha Mae Allred, and son-in-law, Calvin Allred, of Ozark and Daytona Beach, Fla.; a son, Bobby Blanscet of Ozark, with whom she made her home; her 103-year-old sister, Bonnie Pledger of Altus; four grandchildren and four grandchildren-in-law; seven great-grandchildren and five great-grandchildren-in-law; three great-great-grandchildren; and several nieces and nephews.

Funeral services will be at 2 p.m. Friday at Shaffer Funeral Home Chapel in Ozark, with Rev. Bobby Jack Covert officiating. Burial will be at Liberty Cemetery, Altus.

Pallbearers will be Darren Davis, Kenneth Pool, Rick Ultsch, Zac Weeks, Rick Mayfield and Louis Titcher.

The family will visit with friends from 6 to 8 p.m. Thursday at the funeral home.
Obituary taken from the Wednesday, February 21, 2008 edition of The Spectator newspaper, Ozark, Arkansas.
Submitted by Patricia "Pat" (Blanscet) Dill
Notes from Pat Dill:
Aunt Lillian was married to my uncle Eddie Blanscet
His parents were: Jeff and Tobitha (Sublett) Blanscet
Jeff's parents were: Thomas Jefferson "Tom" and Tennessee Jane (Beeson) Blanscet
Tom's parents were: Andrew Jackson and Mary Anne (Kilgore) Blanscet
They are all from Pond Creek Mountain, north of Altus, Franklin County, Arkansas
This is the write up on Aunt Lillian when she had her 100th birthday last August 11, 2007.

Lillian Blanscet honored on 100th birthday

Lillian Williams Blanscet will be honored with a reception Saturday, Aug. 11, 2007 at 2 p.m. at Hampton Inn, Highway 64 at I-40 Exit 55 in Clarksville, on her 100th birthday.

Lillian Williams Blanscet daughter of Jasper and Ollie Pruitt Williams, was born in the Center Cross community Aug. 9, 1907.

She has lived in this area most of her life and is the fifth child of 10 children. She has one living sister, Bonnie Pledger, of Altus who turned 102 on Jan. 28, 2007.

She and Eddie Blanscet were married in Altus on Jan. 3, 1926. She loves to tell the story of how she walked from the Greenwood community area, where they lived at the time, to the Pledger home in the Center Cross community and made her wedding dress. She also tells the story of how they were married standing in the middle of the road in Altus.

She and her husband had two children, Bobby Blanscet and Dortha Ultsch of Ozark. She has four grandchildren, seven great-grandchildren and three great great grandchildren, and several nieces and nephews.

Eddie was a coal miner and he also loved to work in the wheat harvests, so the family moved around a lot. His name is on the Coal Miner's monument in Altus.

Her mother passed away when she was seven years old. She and her two sisters cared for themselves. They had long hair and wore long dresses.

Her husband passed away in October of 1971. She then moved to Houston, Texas, to be near her family. After several years in Texas she moved back to Arkansas.

Her hobbies include caring for her family, cooking, writing letters and quilting. Several years ago different groups of ladies would meet and have quilting party. Each lady would bring a special dish to share and the group had a special time together just to visit.

She is a member of the Liberty Church on Pond Creek Road at the corner of Liberty Road.

She loves to receive cards and letters and enjoys them so much.


Written by:
Dortha (Blanscet) Ultsch
---
©2008 by Norman Blansett
Site Design by StatlerWeb
Last Updated: March 05, 2008